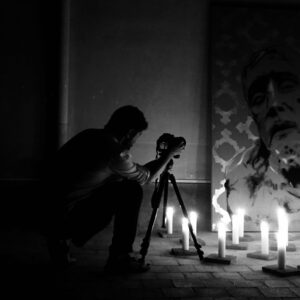 IN THE NIGHT OF THE NAVE, A FILM ILLUMINATES
Framed by the cryptic radiations of candle light, the film-maker Jean-Marc Lamoure ("TARR Béla, I used to be a filmmaker", "FARENJI, un documentaire en ciné concert", "À propos d'Icare, lettre au cinéaste Claudio Pazienza", "L'hirondelle et le coq", "Chaalo, les voix du deuil"), dissects the aesthetic, pictorial and poetical magnitude of the works on display.
Filmed in a way that pleases the senses and mind aesthetically, this record charts fragments of the paintings and close-ups of motifs, lines, surfaces through a beautiful poem written by Laurent Isel. With contributions from Emilie Coraboeuf, cello; Anaïs Giammichele, harp; Laurent Lafuma, voice and Julien Taillefer, sound.
The title of the exhibition "FALLING LIKE LIGHTNING FROM HEAVEN" is a double entendre referencing the biblical cadence of the VI variations and the groundbreaking urge to paint, which the artist evokes as a striking desire to get back to his studio after almost 20 years of peregrinations..