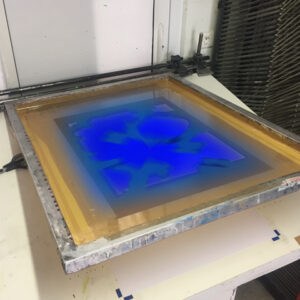 Ahead of the exhibition planned for this summer, Léo has found his way back to the silkscreen workshop (from the Latin sericum the silk and the Greek graphein the writing) in order to make a new series of prints.
Hosted for a day of collaborative work at the OuOùOuh art studio, the production of this series went excellently thanks to the investment, generosity and the benevolent eye of Amandine Portelli, artist and co-director with Mladen Strbac, of this alternative art workshop located in Ingrandes-Sur-Loire. OuOùOuh offers creative residencies, professional training, offsites interventions and workshops on the practices of silkscreen printing and intaglio engraving.
For this series, Léo has returned to this printing technique which uses stencils (silk screens) interposed between the ink – applied with a squeegee – and the support (paper, textile, wood, plastic and so on). He explored this technique at length, broadly and across the board in the 90s, notably through the productions, co-productions and performances made within the SériLimitée association he founded in 1994. This led to impromptu urban interventions at Place Bouffay in Nantes, with Act'Up activists in Rennes, co-editions with Dutch artist Roger Cremers, workshops in the Maisons Familiales & Rurales network, & the creation of the LéoKosm label, which has now become LK'. He also directed the silkscreen workshop at the University of Rennes II, Haute-Bretagne the year of his master's degree through Gilles Leguennec. In his studio he has a large number of prints in his archives, which will be presented to you in a forthcoming exhibition dedicated to works on paper.
In the meantime, the twenty-five silkscreen prints, numbered, enhanced with copper foil and signed, will be put on sale online very soon and available for purchase as part of the exhibition «FALLING LIKE LIGHTNING FROM HEAVEN – VI variations ». A Prestige Edition of five prints enhanced with 22-carat fine gold will also be released. Keep your eyes wide open…