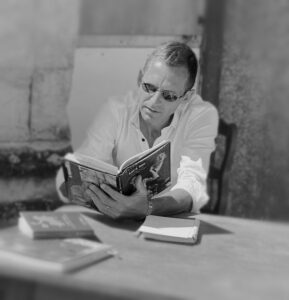 Serial creator, Léo Lefort deploys a protean work based on the practice of painting, drawing, photography, sculpture, printmaking and performance.
Twenty-five years of career, numerous exhibitions as well as multiple interdisciplinary collaborations make him an artist with an atypical career, accustomed to unusual situations and exceptional places.
He started at the University of Rennes II, UFR Arts & Communication, validated his Master's degree with a presentation of his work at the Domaine de Kerguéhennec art centre and flew to Addis Ababa, the mythical capital of Ethiopia, in January 1999. There, he curates the exhibitions of the gallery of the French cultural centre. This Abyssinian stay will last 16 years, during which he creates and manages three art galleries, teaches at the School of Fine Arts & is involved alongside the creators of the bubbling Ethiopian artistic scene: painters, dancers, filmmakers, actors, musicians, photographers, graphic designers, publishers, writers, architects… With an ever alert eye, Léo is passionate about impromptu, eccentricity and the out of the ordinary. He thus becomes an essential figure of the Addis Ababa fine arts scene.
Renowned institutions (UNESCO, Red Cross, Goethe Institute, Palais des Bozar, British Council, French Ministry of Foreign Affairs, African Union, …) entrusted him with the artistic direction of numerous projects.
In 2016, he left Addis to settle for four years on the shores of the Persian Gulf, in Dubai, and put an end to his practice as a curator & art dealer to devote himself exclusively to teaching & the development of his personal work.
After a year's residency in London, 2019 marks the return to his roots in France. In love with the Loire River, he rediscovers Anjou, the local heritage & opens a new era in his career: a return to the studio.