LIVE RECORDINGS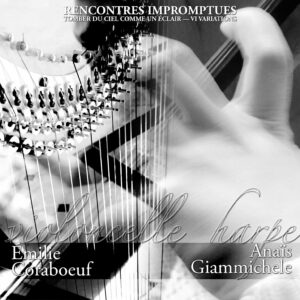 Recorded on July 22nd, at the chapel of the Sisters of Saint-Charles in Saint-Florent-Le-Vieil, as part of the Rencontres Impromptues organised as a counterpoint to the exhibition 'FALLING LIKE LIGHTNING FROM HEAVEN – VI variations', these six pieces for cello and harp were written – exquisite frames – and performed by Émilie Coraboeuf (ONPL) and Anaïs Giammichele. Each of the six pictorial variations exhibited thus found its musical extension during this exceptional concert.

The audience that came to listen to this musical performance, in the context that we know, was able to measure the intense emotion that bathed the nave of the chapel. As palpable as the glowing red light gliding over the tufa stones and terracotta tiles as they moved, this emotion also emanated from the two musicians who had not performed in front of an audience since mid-March. Both coming from prestigious European conservatories (Paris, Lille, Frankfurt and Lausanne), they came together to freely give us these six daring improvisations. The exercise of this string duo has indeed managed to find its point of balance and give a singular sound relief to each of the works on display.
This live creation accurately reflects the spirit in which the artists' work must also be able to emerge: the immediate projection of a desire; beyond tensions; with lightness; doubt & power. Art does not force anything. It never waits for our freedom and the grace it invokes is nothing but eloquence and transparency. A spirit speaking to a spirit. The spirit of art speaking to the spirit of man. Art knocks at the door but does not knock it down.
The commitment of Emilie & Anaïs is absolutely remarkable in this respect. The doors they opened for us during this so touching concert allowed us to reach another level of reading of the works presented. The recordings below only partially capture the emotion that dragged this unforgettable artistic epiphany.
………………………………….………………………………….
Cello : Émilie Coraboeuf
Harp : Anaïs Giammichele  
………………………………….………………………………….
Composition : Émilie Coraboeuf and Anaïs Giammichele
Recording : LL Sound
Remastering : Julien Taillefer
Acknowledgements: Commune nouvelle de Mauges-Sur-Loire, Commune Déléguée de Saint-Florent-Le-Vieil, Groupe LDC,
Orchidées Maisons de Vin, Maison Ackerman and Jean-Michel, Philippe, Mélanie, Estelle, Julien, Faustine, Fabrice, Anne,
Laurent, Cécile, Babeth, Pierrot, Eden and James.

►FREE CULTURE : Licence Creative Commons Attribution 4.0 International // free distribution licence // Assignment – No Commercial Use – Sharing under the Same Conditions // CC BY-NC-SA.