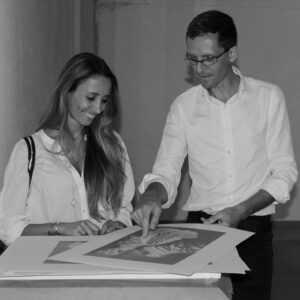 Atelier LK' creates a link between art and the private sector through its ART@WORK program by exploring the possible connections between the different actors of your company, thanks to the vision of an artist and entrepreneur.
Bridging private industries and cultural operation, the artist promotes innovation within your company enabling your teams to work together on a collaborative project. The ART@WORK workshops are designed to motivate and improve the cohesion of your team, bring collective energy and strengthen constructive dialogues within your company.
You need to implement new phase in your business's operations or development model? You face new challenges? Atelier LK' adapts its workshops to each clients' profile in order to achieve the specific objectives. With such mutually rewarding set-ups, everyone can take full advantage of a unique and personalized experience.
WE OFFER THREE SOLUTIONS :
So ready to create a work of art? Develop new skills? Take part in a collaborative creation process? Understand the link between art and its contexts? React to artistic work? Deepen your understanding of the world?
Atelier LK's team commits itself alongside entrepreneurs to champion creativity in your workplace with its ART@WORK program!
Do not hesitate to contact us to discuss together our team building workshops and artistic practice sessions. You can also welcome the artist in residence in your company.
Our workshops are available all over the world!
Choose your formula according to your needs, from 495€ onward.
All our formulas include:
•

finely curated client-specific work sessions around key concepts
•

on-site or off-site art practice workshops based upon your needs
• basic equipment and materials
• a restitution publication at the end of the workshop
After validation of the order, no hidden or additional charges will be requested, however, travel and accommodation costs should be included where applicable.